How Much Money to Save For a Home Purchase
At VeteransLoans.com, we take pride in offering VA loans with no down payment necessary. It is one of the great advantages of the VA loan benefit. However, when prospective homebuyers, especially first-time homebuyers, hear "no down payment" they can sometimes misunderstand this to mean "no upfront costs whatsoever" in a home purchase.
The fact of the matter is there are a lot of upfront costs associated with purchasing a home in addition to the down payment. While the down payment is usually the largest upfront cost, it is not the only one. The down payment is the big upfront cost most people associate with purchasing a home. But did you know that a down payment is not the only large cost you will need to pay when you purchase a home?
Closing costs, inspections, appraisals, homeowners insurance, and earnest money are costs associated with a home purchase that can come as a surprise to first-time homebuyers. In this article, we break down just how much money you need to save for a home purchase.
Home Purchase Costs
Here is an overview of all the costs associated with purchasing a home.
Earnest Money
When you are ready to place an offer on a home, you will need to provide earnest money to the seller to prove how serious you are about your offer.
This money will eventually be put toward your down payment, but you will need to have the cash available upfront when you first make the offer on the home.
The standard amount of earnest money ranges from 0.5% to 1% of the price of the home.
Your lender will have to verify where you sourced your earnest money and have a receipt of payment or proof of withdrawal before your home loan can be approved.
If you are unsure what amount of earnest money to provide, be sure to use your realtor as a resource. They can help determine what is a typical amount of earnest money to pay in that area. You don't want to pay less than is typical for your local area because that will make your offer less competitive.
Inspection
Before you purchase your home you will need to have it inspected.A home inspection is completed by a qualified home inspector.
Throughout a home inspection, the following structures are visually examined and checked for potential safety hazards:
Structural and foundation
Roofing
Plumbing and Electrical
Appliances
Home inspectors will check the house for water intrusion, and report on the home's roof condition, inspect electrical systems.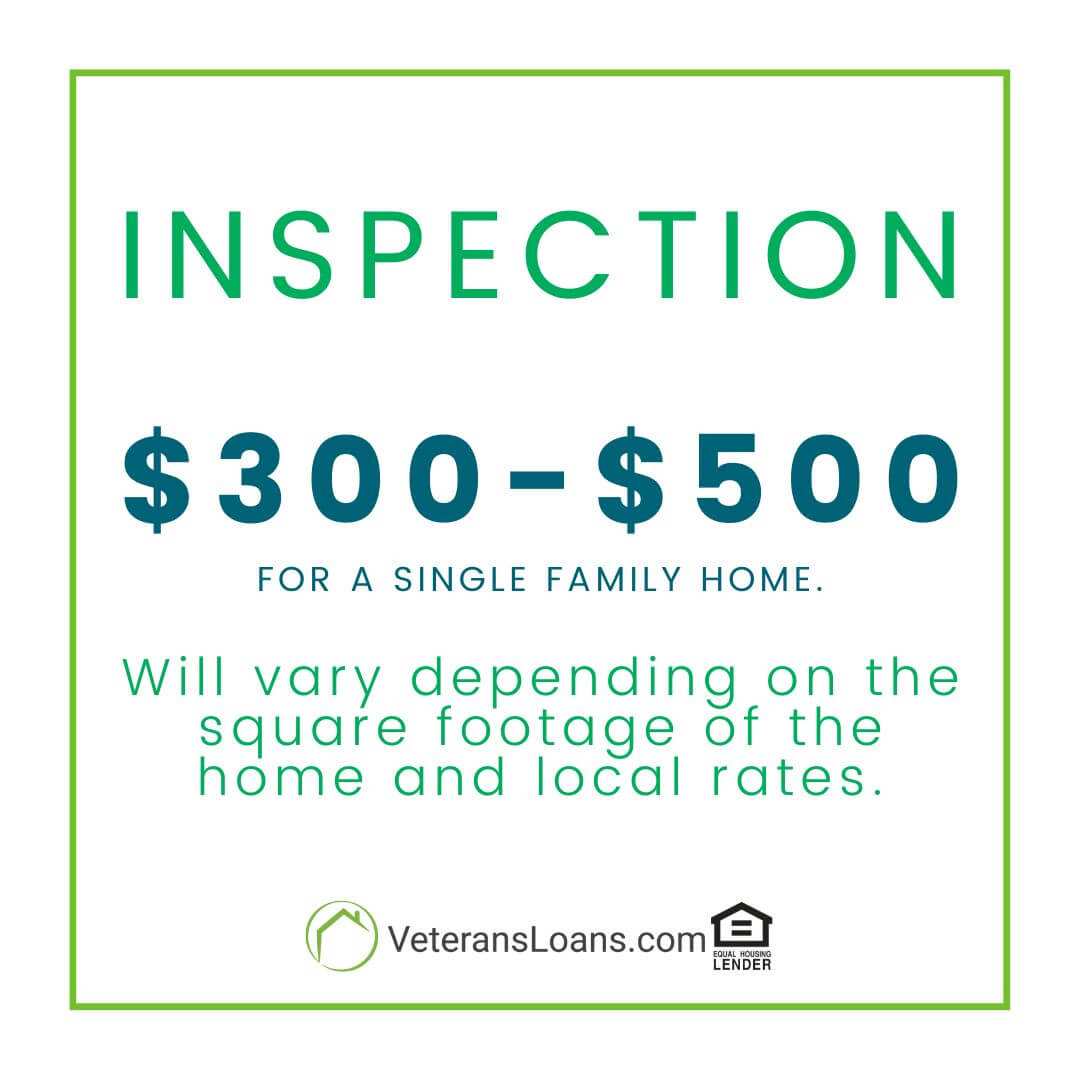 A complete home inspection will report on the home's heating system, air conditioning system, plumbing, electrical system, roof, attic, visible insulation, walls, ceilings, floors, windows, doors, foundation, basement, and structural components.
Most inspections range from $300 to $500 but can be less or more depending on where you are located. The buyer is responsible for covering the cost of a home inspection.
While an inspection is not necessary to be approved for your home loan, it is not something you want to skip. It might be tempting to save a few hundred dollars upfront to expedite the home purchasing process, but skipping an inspection could mean not discovering foundational issues that could cost you thousands to repair or hazardous conditions that could potentially make your home unlivable.
Appraisal
The appraisal is another cost of the home purchase process that the buyer is expected to pay for. The appraisal process determines a home's true market value.
The market value of a home is determined by the following factors:
Comparable homes within the local market
Style and curb appeal
Age and condition of the home
Structural construction and materials
Square footage and size of a home
Updates and improvements made on the home
The current economy and housing market
The appraisal will reveal if your home is priced above or below market value. If the home is priced above market value, this could be an opportunity for you to renegotiate the purchase price of your home. If the seller is not willing to renegotiate the purchase price, you may have to be willing to make up the difference between the value of the home and the purchase price in cash since mortgage lenders will not lend you a mortgage that exceeds the value of a home.
The cost of an appraisal will depend on the size of your home. An appraisal for a single-family home typically costs $300 to $450.
The cost of a larger home and property will typically be in the $500 to $800 range.
Your realtor can help you gauge how much the appraisal for your purchase property will cost.
Homeowners Insurance
The cost of homeowners insurance is another cost the buyer is expected to pay at closing. Typically, you will be required to pay your first annual homeowner's insurance premium at the closing of your home loan.
Your first homeowner's insurance premium will be lumped into your closing costs. 
This requirement can vary from lender to lender. Some lenders may require you to pay your homeowners insurance through an escrow account. In this case, you will pay a certain amount to this escrow account through your mortgage payment each month.
Then at the end of the year, your annual homeowner's insurance premium will be paid in full out of your escrow account.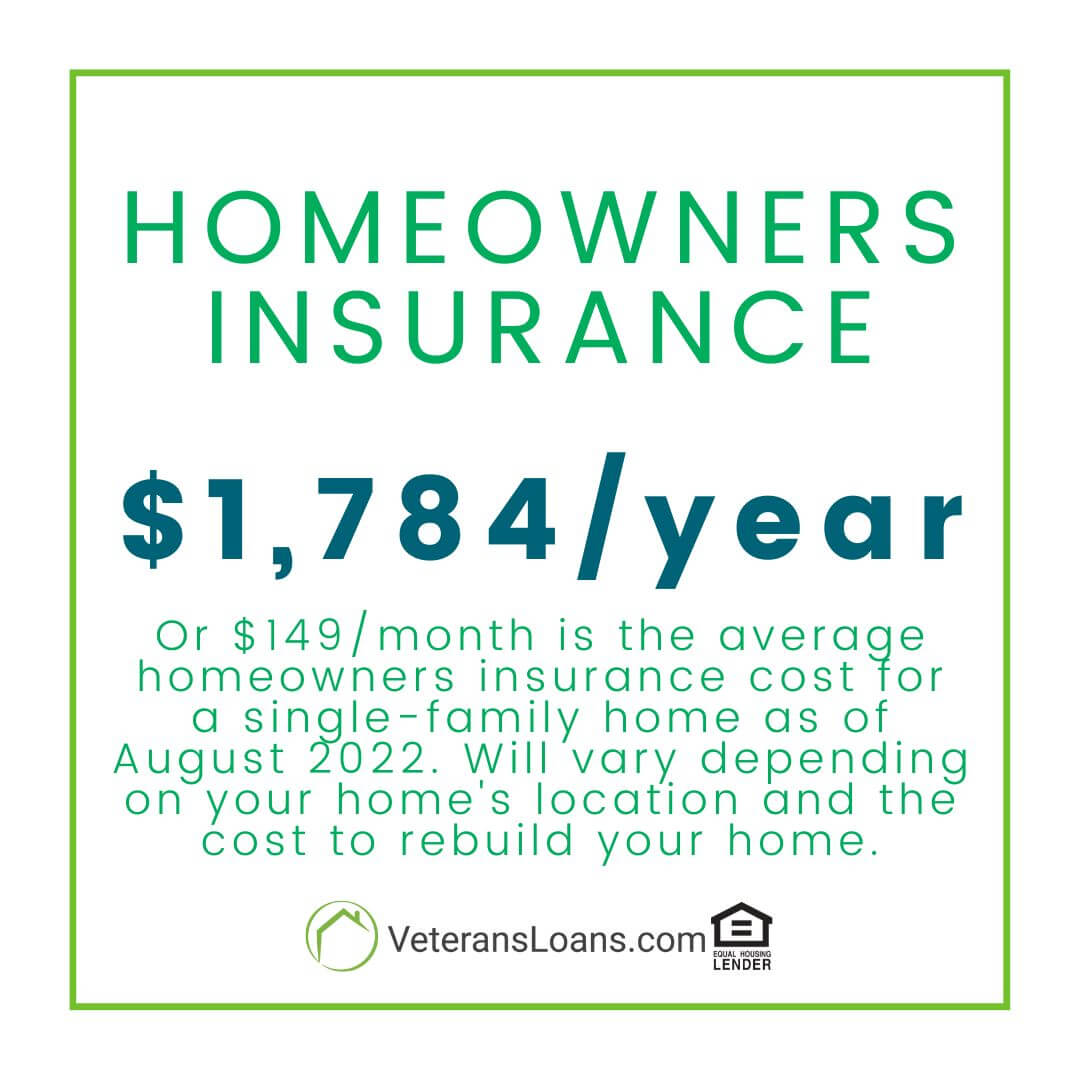 If you are not required to pay your homeowners' insurance through an escrow account, you can choose for yourself if you want to pay it on a monthly, semi-annually, or annually basis. As of March 22, 2022, the average homeowner's insurance cost in the United States was $1,784 per year for a policy with $250,000 in dwelling coverage. On average, the most expensive states for homeowners insurance are Oklahoma and Kansas while the least expensive states for homeowners insurance are Hawaii and Vermont, as of 2022.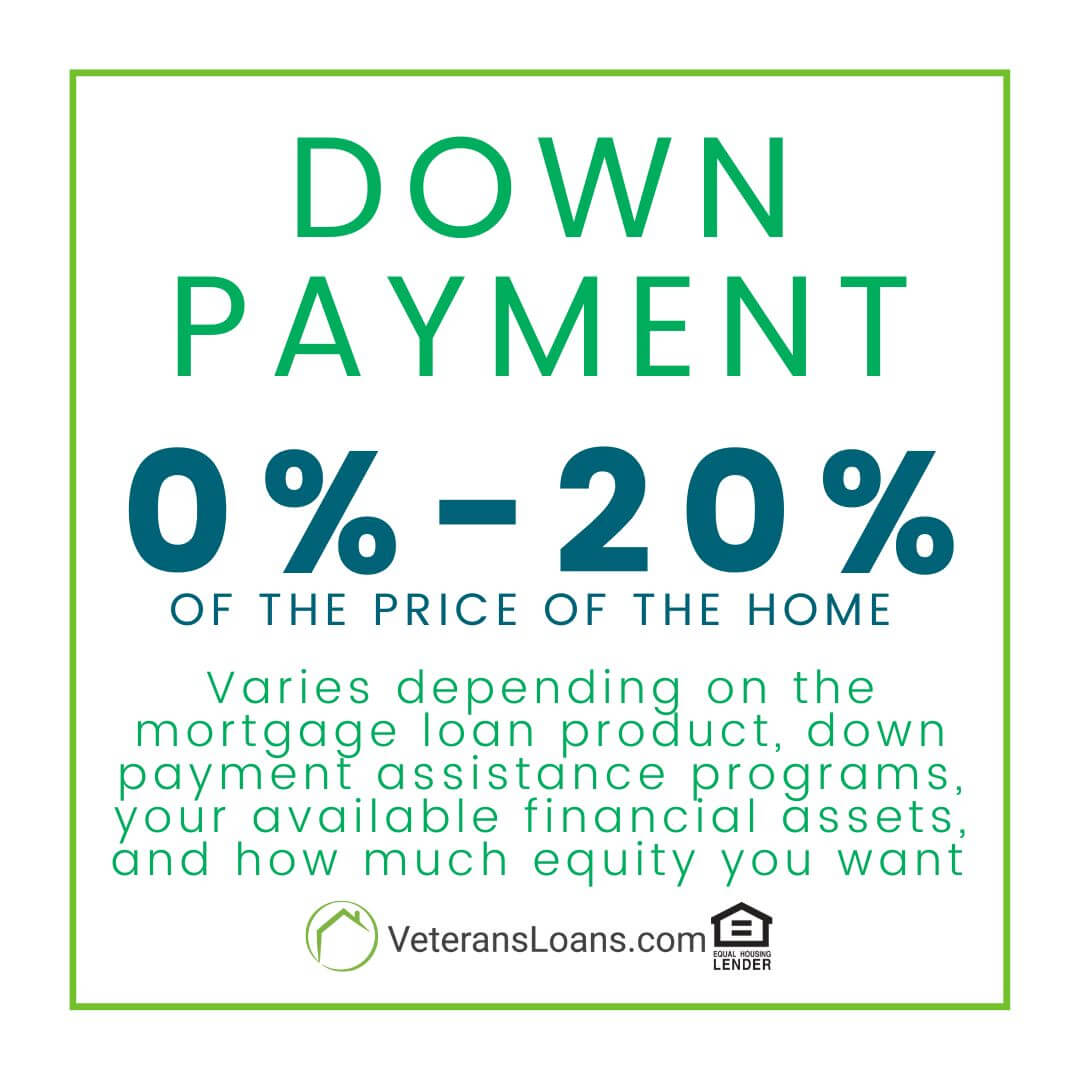 Down Payment
The down payment on a home is one of the first expenses most prospective homebuyers think of and plan for. How much money you will need to pay on your down payment can vary drastically and will depend on what type of home loan you are using to purchase your home. Now, more than ever, there are options available to avoid paying for a down payment altogether.
USDA and VA loans are government-backed loans that do not require down payments. VA loans are available for qualifying Veterans, servicemembers, and survivors. Only certain homes, typically in more rural locations, qualify for USDA loans. Your realtor can help you determine whether a home can be purchased using a USDA loan.
FHA loans are also government-backed loans and typically require no more than a 3% down payment for buyers with a credit score of 580 or higher. There is also an FHA down payment assistance grant program available for qualifying borrowers.
Conventional loans only require a down payment of 3% with a qualifying credit score of 640 or higher. The average down payment on a conventional 30-year fixed mortgage is approximately $12,500.
The main advantage of making a large down payment of 20% or more is to avoid paying private mortgage insurance (PMI). Private mortgage insurance is a type of insurance required by conventional mortgage lenders. If you are securing a conventional mortgage loan and do not make a down payment of 20% or more, you will be required to pay PMI. USDA and VA loans do not require private mortgage insurance but have other fees associated with them. FHA loans have their own type of private mortgage insurance known as MIP. Buyers can avoid paying MIP on an FHA loan by making a down payment of 10% or more.
Closing Costs
For first-time homebuyers, closing costs can come as an unpleasant surprise. Closing costs include a plethora of fees, including lender fees, title fees, attorney fees, and property taxes, to name a few. Closing costs on average cost 2% to 5% of the home's purchase price.
This means if you are purchasing a home for $300,000 you will need to have $6,000 to $15,000 set aside for closing costs. It's also important to note that closing costs are often split between the seller and buyer. Be sure to have your realtor negotiate this with the seller upfront. We hope this overview gave you a better understanding of how much money to save for a home purchase and all of the costs and expenses associated with buying a home.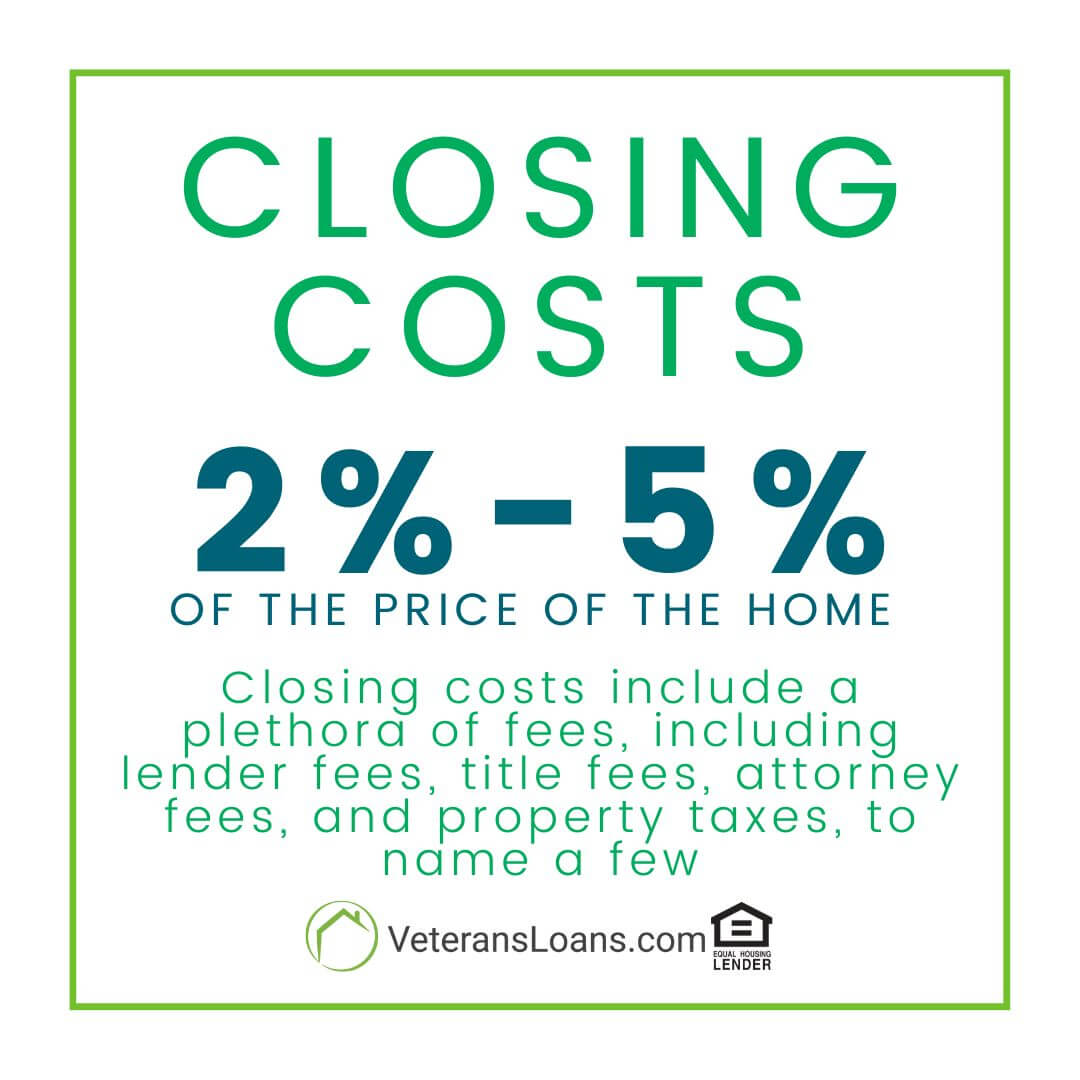 Ready to Pre-Qualify?
Are you looking to get pre-qualified for a home loan? The loan specialists at VeteransLoans.com can determine your loan eligibility and get you pre-approved in a matter of minutes! VeteransLoans.com offers conventional, FHA, and VA home loans. VeteransLoans.com does not offer USDA loans.
Create a better financial future
Get Started for
Free
To see if a VA loan makes sense for you, get started with a custom quote with no impact to your credit score