7 Common Questions About Mortgage Rate Locks
What is a Mortgage Rate Lock?
A mortgage rate lock prevents the interest rate on your home loan from increasing or decreasing within a specified timeframe before closing, typically 30-60 days or more depending on the terms of the rate lock and the type of mortgage loan. This allows you, as the buyer, to financially plan for your monthly mortgage payments. You must close on your home purchase within the specified timeframe and there must be no changes to your loan application within that timeframe in order to secure your locked-in rate.
Mortgage rates fluctuate throughout the year and even throughout the day. From the moment you get pre-approved for a home loan and your home loan application is submitted to underwriting before closing, mortgage rates will inevitably fluctuate up and down. This means you won't know exactly what the mortgage rate will be at the time of closing. If rates go up, this could cost you thousands of dollars over the life of your loan and increase your monthly mortgage payments.
How to Get a Mortgage Rate Lock
Every home loan application goes through two rounds of underwriting. The first round of underwriting is called initial underwriting. After initial underwriting is completed is generally when your mortgage lender will offer to lock your rate. If your lender never offers a rate lock, you can still request one. Rate lock policies vary from lender to lender.
What If Mortgage Rates Go Down After I Lock My Rate?
Mortgage rate locks can include a one-time "float down" option. This allows you to get that lower rate in the event that mortgage rates go down before closing. This option is most commonly used in construction loans or new builds with longer-term rate locks. You can always ask your lender if they have a "float down" option in their mortgage rate lock.
When Should I Lock My Mortgage Rate?
There are a few factors you should consider before deciding if it's the right time to lock your mortgage rate. Your loan officer can give you some insight as to what direction the rates are headed. Make sure to use them as a resource! When deciding whether or not to lock your rate, consider these questions first:
Do I want the certainty of a locked mortgage rate?
How affordable is this mortgage rate compared to offers from other lenders?
Is the rate lock term long enough to reach my closing date?
Do you think the mortgage rates will go up or down?
If you want the certainty of a locked mortgage rate, if you have shopped around with other lenders and know that you have found the lender with the best rate, if you feel confident that you can close on your home purchase by the closing date, and your loan specialist does not anticipate mortgage rates decreasing in the near future, then it is probably a good time to lock your mortgage rate!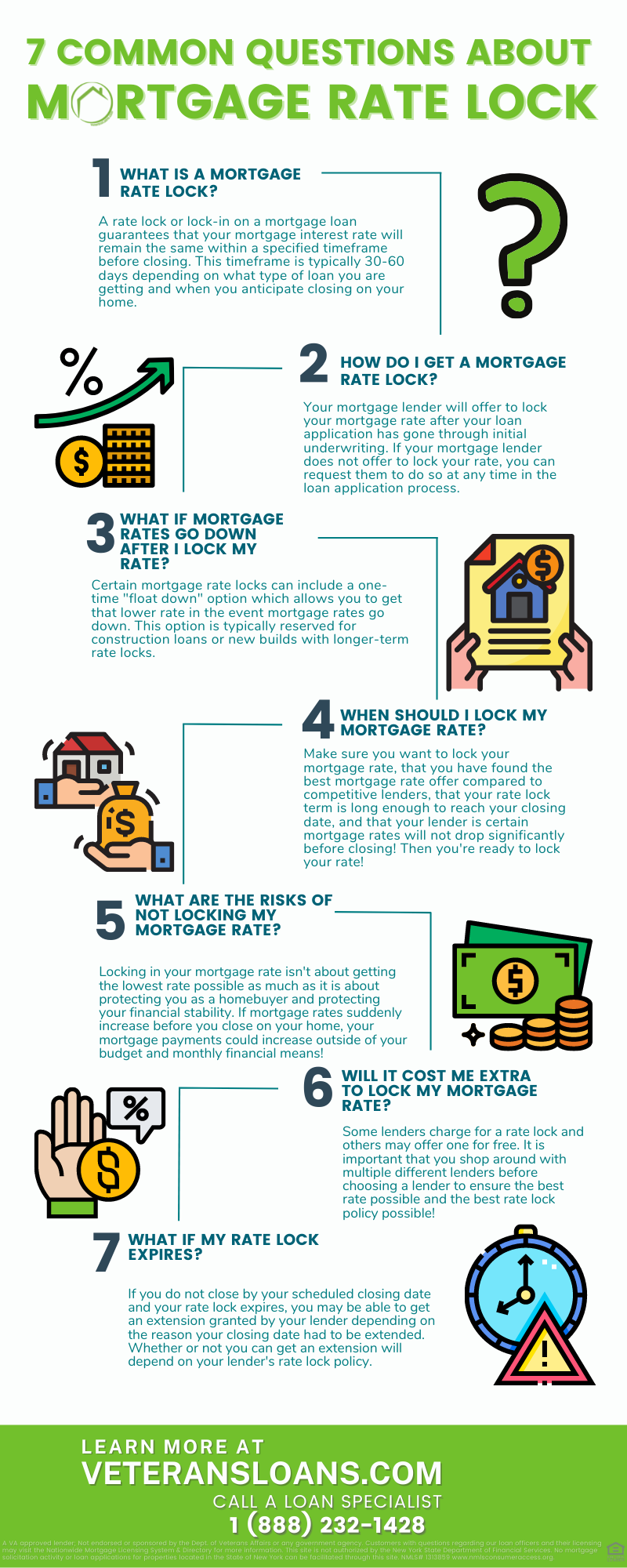 What Are the Risks of Not Locking My Mortgage Rate?
Locking in your mortgage rate isn't about getting the lowest mortgage rate possible as much as it is about protecting you as a homebuyer. If mortgage rates suddenly increase when you close on your home, you might be left with a mortgage payment outside of your financial means and struggling to adjust your budget and financial plans.
Locking in your mortgage rate can also protect you from having to come up with a higher down payment. If your payment increases as a result of rising mortgage rates, your lender could ask you to make a higher down payment to keep your debt-to-income ratio within the qualifying limits.
Will it Cost Me Extra to Lock My Mortgage Rate?
Some lenders will charge for a rate lock and others may offer one for free. This is one reason why it is so important to shop around with different lenders before choosing!
If your lender does charge for a rate lock, the fees associated with your mortgage rate lock are determined by the amount and term of your home loan. The mortgage rate lock fee will also depend on the lock-in timeframe. Mortgage rate lock fees are measured with basis points. For example, 20 bps or 0.20% of the total loan value. This means a 0.20% rate lock fee on a $250,000 home loan would be $500.
What If My Rate Lock Expires?
Let's say you secured a 30-day rate lock, but the appraisal for the purchase property comes in under the selling price and you and the seller have to renegotiate the final price, pushing back the closing date. Your loan amount also inevitably changes as a result, and your 30-day rate lock expires due to this change in your loan application. A change to your loan application may mean that your previous lock is now incorrect and will need to be updated, and the rate you can secure may be different.
If there are delays in the application process your closing gets pushed back beyond the expiration of your rate lock, reach out to your lender and request a rate lock extension. You may or may not be able to get an extension granted depending on the cause of the delays in closing, and there could be a fee for the extension. The more responsive you are to your lender's requests for information and signing documents, the more willing your lender may be to give you a little more time.
Contact a Loan Officer
VeteransLoans.com offers some of the most competitive mortgage rates! Contact a loan specialist today and call 1 (888) 232-1428 to determine your loan eligibility and get pre-approved in a matter of minutes.
Create a better financial future
Get Started for
Free
To see if a VA loan makes sense for you, get started with a custom quote with no impact to your credit score