17 POPULAR HOME STYLES ON THE MARKET TODAY
Home Ownership | In Design | 10 min
Summary:
We're going to highlight 17 popular home styles that you'll find across the U.S. We'll show you some pictures and talk about which features make them unique, too. Knowing the language behind your favorite home styles will help you identify exactly what features you want in your next home. It will also help you communicate those features to your realtor, too.
Understanding the distinct architectural home styles on the market today is a useful tool for home buyers. In addition to helping you understand the features or styles you want to find in your future home, knowing how to accurately describe them can help make sure that you and your realtor are on the same page when you're house hunting. We've compiled a list of seventeen of the most common architectural home styles to help you better understand what you're looking for- whether you're looking to use a VA home loan or not.
Art Deco: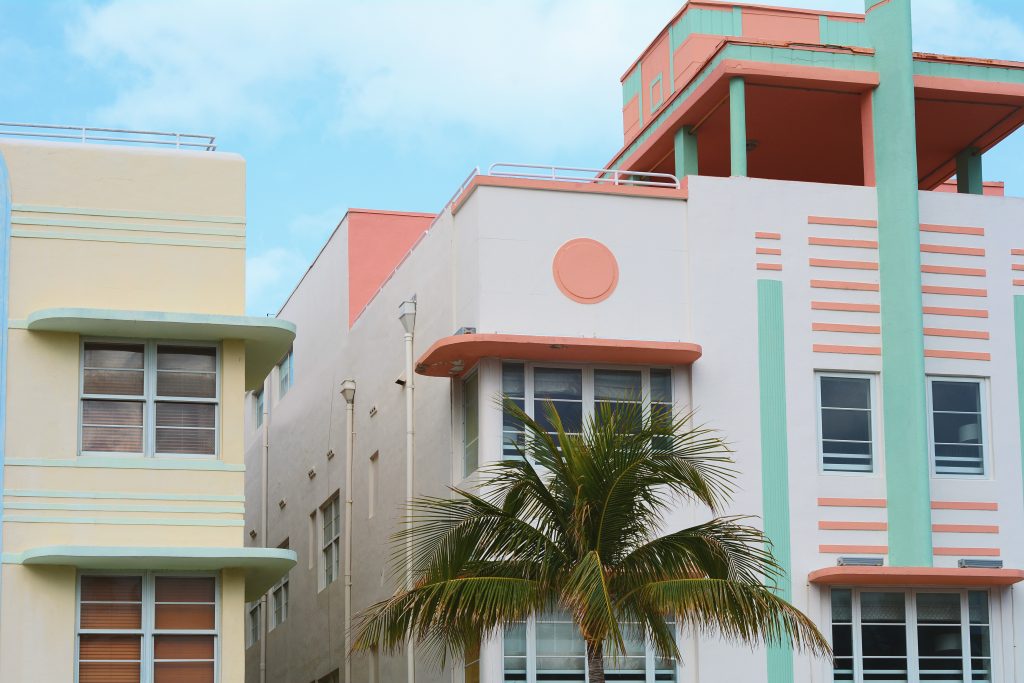 The Art Deco style is an easily recognizable style from the mid-20th century (ca. 1925-1940). Rich in decoration and grandeur, key features of the Art Deco style include intricate detailing, contrasting (often very bold) use of color, and heavy use of geometric designs.
A style focused on opulence, Art Deco was mostly used in large monolith-style buildings like office buildings and skyscrapers. Rarely used in single-family homes, residential applications of this home style are primarily found in apartment buildings and townhomes.
Bungalow: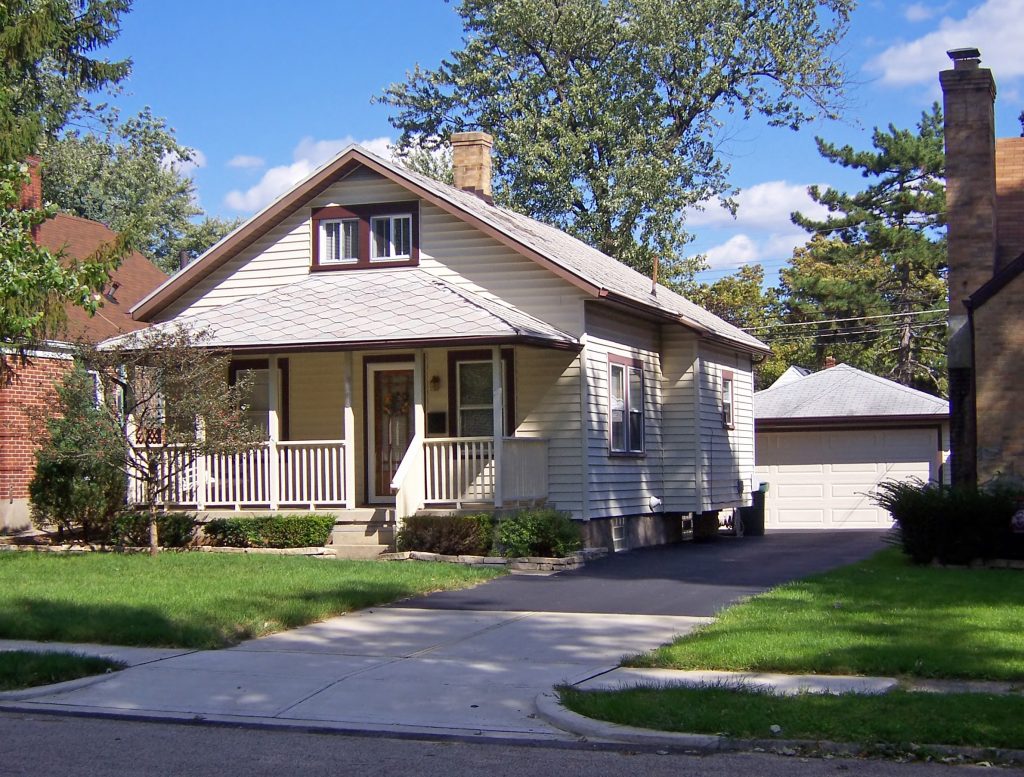 Bungalow home styles originate from Bengal and are traditionally one story, compact residences. This home style typically includes small, open floor plans and large front porches. You'll also usually find a generous amount of large windows throughout.
The term "bungalow" is pretty flexible, and bungalows adapt to many other styles. Typically, if a home is just referred to as a "bungalow", it is referencing a Craftsman Bungalow. Otherwise, a modified bungalow will adopt the style of its main half, but interpreted through the bungalow lens.
Cape Cod:

A subset of the British Colonial style, the Cape Cod style is an American adaptation of an English cottage. The earliest Cape Cods were built with English-style large central living spaces (halls), but had modifications built to withstand the tougher New England winters. Features such as lower ceilings and steeper roofs helped with heat conservation and to prevent snow buildup.
Most of today's Cape Cod style homes were built post-World War II as a cost-effective way to house returning soldiers looking for homes. The exterior of these homes will typically be symmetrical with steep roofs and a simple exterior. Windows will often be double-hung and shuttered, with bedrooms having a gabled dormer- a small, horizontal, roofed extension of the room.
On the interior, Cape Cod homes will typically have low ceilings, wood floors, and stay less than two stories. They'll have a symmetrical layout with a central hall and include an open-concept living space.
Colonial:

"Colonial" is a broad residential architecture style that encompasses many substyles, including the Cape Cod. Most subsets of the Colonial style come from the original country's architectural influence during the colonial period of American history. This includes the British Colonial (Cape Cod falls here), Dutch Colonial, French Colonial, German Colonial, and Spanish Colonial. Colonials were largely popular from around 1700 to the Revolutionary War, or during America's status as a colony. As such, you can find many homes of this period on the eastern seaboard.
Despite a large range of influences, most Colonial styles share some similarities. Most Colonial style homes will have two or three stories, fireplaces, be symmetrical in structure, and have evenly spaced shuttered windows. Any structure on the outer facade, such as dormers, columns, and chimneys, will be placed with the overall symmetry of the structure in mind. Generally, roofs contain a front gable.
Craftsman: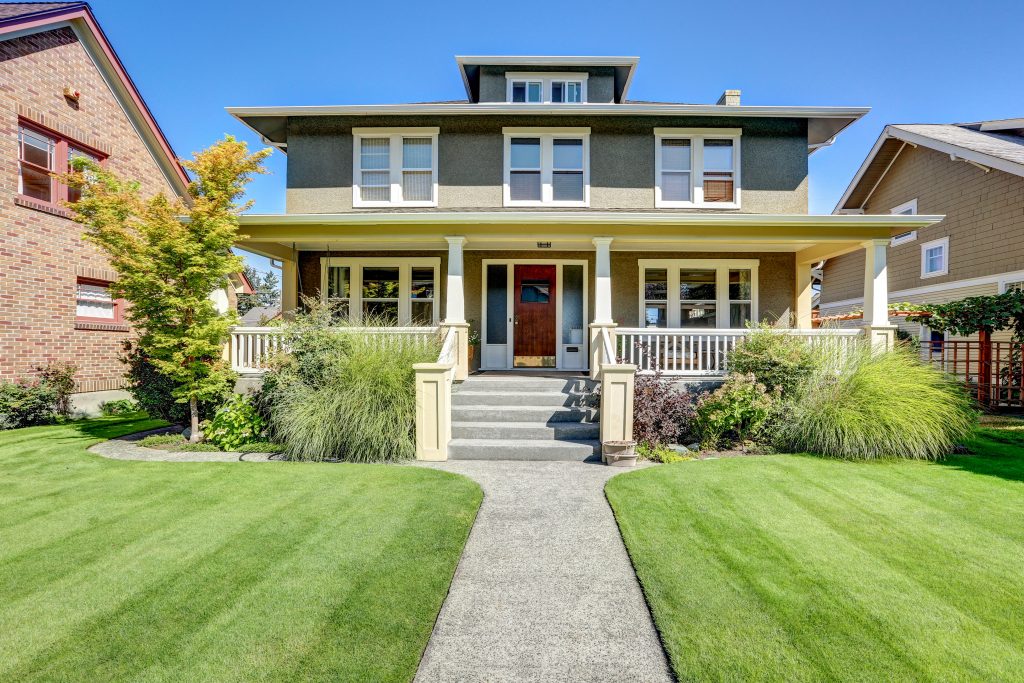 The Craftsman home style is a staple in today's home market, and came about as a direct response to the Victorian style homes popular in the late 19th century. Where Victorian homes were built to show off the achievements of American manufacturing, Craftsman homes were designed with an emphasis on hand-worked interiors using locally sourced materials. Where Victorian homes emphasized vertical lines, Craftsman homes emphasize horizontal ones.
These homes are characterized by the long, low-sloping roofs that create large, covered patios at the front of, or around the front of, the home. Both the exterior and interior are primarily built using more natural materials like wood and stone. Fireplaces are a staple in Craftsman homes, and floor plans tend to be cozier and more segmented. Originally found around California, Craftsman homes are still a popular new-construction, especially in states with a cultural focus on the surrounding environment, such as Colorado or Washington.
Federal:

Federal homes are another architectural style popularly found on the eastern seaboard. The federal style denotes a time in American history where the federal government was being constructed and refined, and reflects the influence of Robert Adams – one of Great Britain's most popular architects.
Federal style architecture can be characterized by plain surfaces with large but understated design elements. Typically, a Federal style home is a simple square or rectangular box up to two stories tall, but Federal townhomes can be up to three or four stories tall. Some Federal homes have been modified with projecting wings or other attachments. Federal style architecture often highlights geometric designs, especially elliptical and fan-shaped motifs.
French Provincial: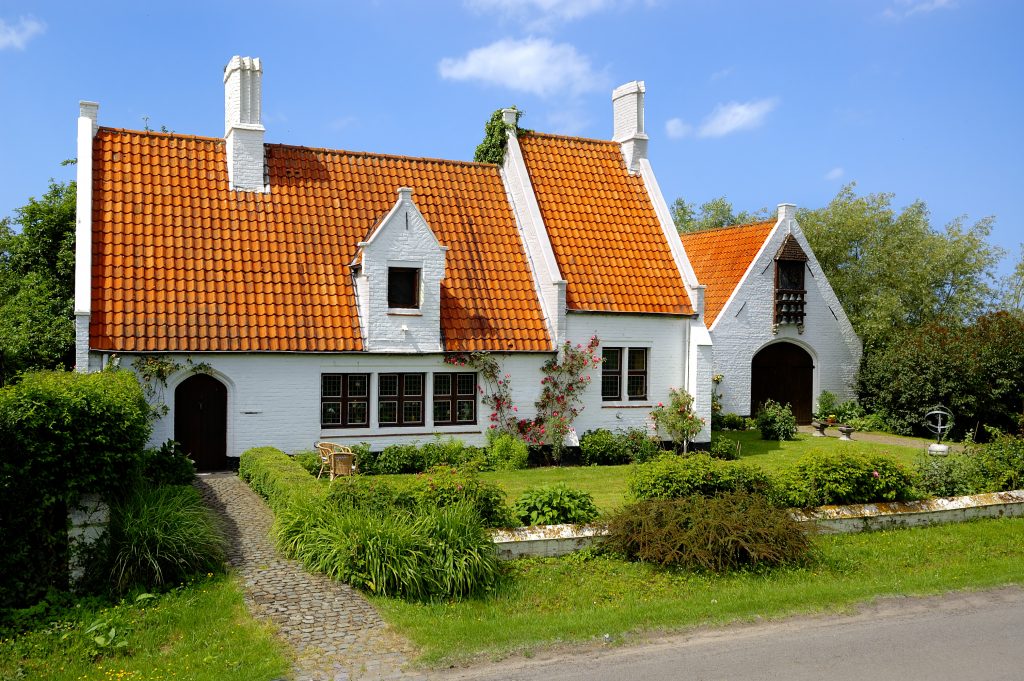 French provincial houses became popular in the United States after American soldiers returned home from WWI and built houses inspired by the country manors and chateaux homes they saw while serving in France.
Some essential characteristics of the French Provincial style include stone or brick facades, heavy use of symmetry, and an emphasis on elegance. Interiors tend to focus on softer materials with curves and textures. Roofs are typical steeply pitched and hipped, meaning all four sides of the roof slope down towards the ground at a steep angle. Many French Provincial homes will also have dormers.
Mediterranean: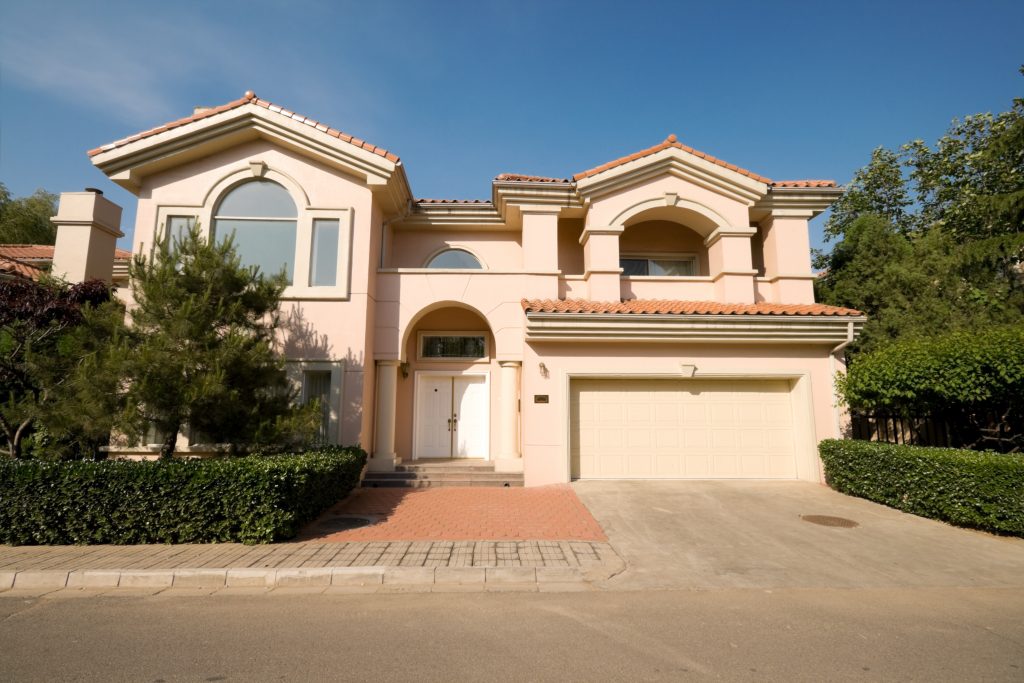 Mediterranean architecture has drawn influence from a wide variety of countries, including Italy, Portugal, Spain, France, Greece, Morocco, and others. Even with such a wide variety of influences, there is some core commonality in the Mediterranean style, such as the red clay tile roofs and stucco walls.
Other common characteristics of Mediterranean homes include ornate archways on doors and windows, wrought iron accents on the home's exterior, and an emphasis on outdoor spaces. Many Mediterranean homes include a patio, terrace, balcony, or atrium, and have plenty of access points to the outdoors accordingly.
Mid-Century Modern:

Mid-Century Modern is a very recognizable design style trending in the United States today. But what about Mid-Century Modern architecture? Often compared to the High Prairie style, Mid-Century Modern architecture was popularized in the middle of the 20th century.
The most common characteristics of the Mid-Century Modern home style include low, flat roofs with straight lines and floor to ceiling windows. Floor plans are often wide open and have wide footprints. Mid-Century Modern homes often have small changes in elevation, such as a split-level room, partial walls, or varying heights in shelving or furnishings. These homes also champion an integration with nature, so they often have rooms with multiple doors, windows, or large, integrated outdoor areas.
Modern: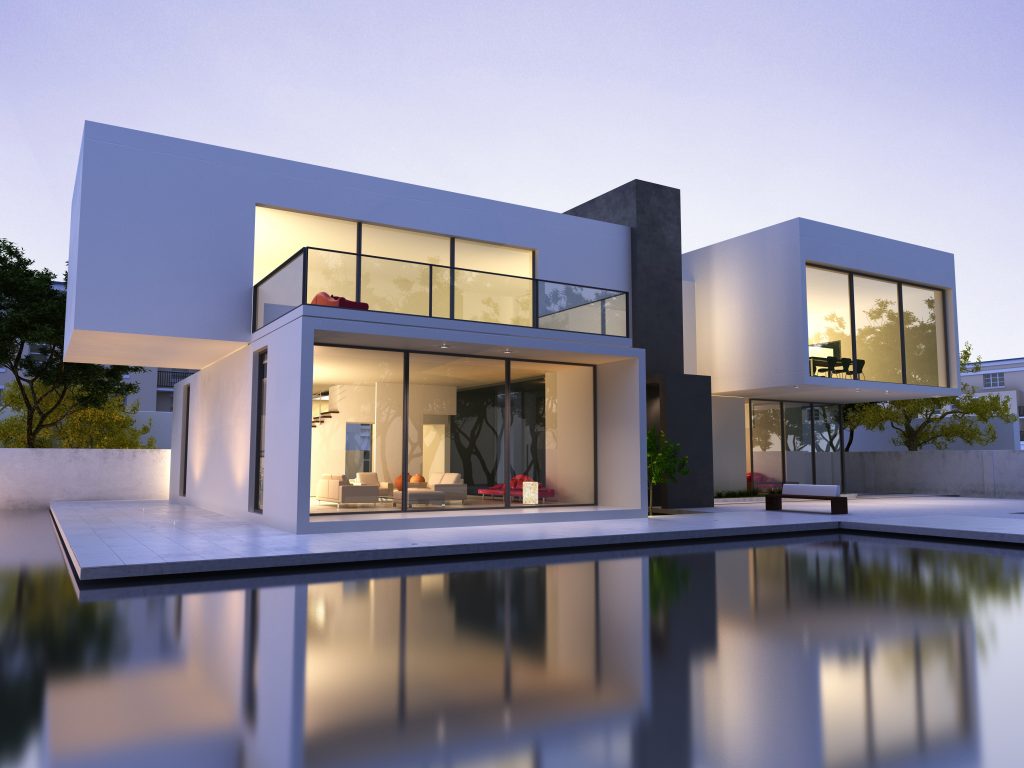 It's not uncommon for realtors and sellers to describe a home as "modern" or "contemporary" interchangeably. In reality, these two words mean very different things.
Modern architecture references a specific home style built in the first half of the 20th century. These homes have a distinct style. The term "contemporary", however, references the style of home built in the trends of that current period.
Modern architecture is defined by its emphasis on simplicity. Modernist architects chose to intentionally exclude the verticality and heavy ornamentation that was popular at the time. Instead, this style has long, asymmetrical layouts with heavy glass walls. Modern architecture is a parent of the Mid-Century Modern style listed above.
Prairie School (High Prairie):

Similar in nature to Mid-Century Modern, Prairie School architecture was popularized by the infamous American architect Frank Lloyd-Wright. Prairie School homes are typically 1-2 stories, with open floor plans and built-in furniture. Similar to the Mid-Century style, Prairie School style homes champion both an integration with nature and strong horizontal lines.
These homes focused on improving the flow from room to room, including flow to and from the outside. This means that these homes pay attention to lines of sight from room to room, number and placement of windows, and the availability of natural light and cross-ventilation.
Pueblo Revival: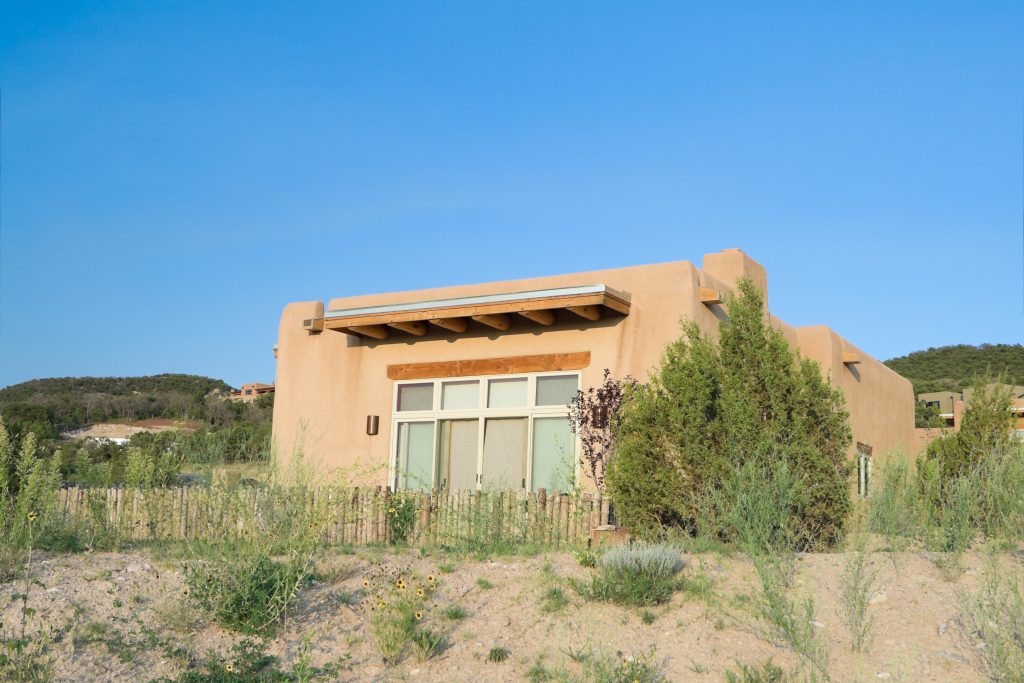 The Pueblo Revival style is a popular southwestern style of architecture that imitates the appearance of traditional Pueblo and Spanish mission architecture.
Pueblo Revival homes traditionally use adobe, but other materials such as brick or concrete are often used instead. Rounded corners, thick walls, and wooden roofing beams (that may or may not serve a structural purpose) are all mainstays of this style. While mostly found in the state of New Mexico, this style has also been popularized in surrounding western states, with a reach as far as California to Colorado.
Ranch:

The Ranch style is a home style that was popularized in the American post-war era of the 1940s. The housing boom of the time saw a need for efficient housing. This cheaper, more plain version of the California Ranch became very popular as a result. Still, the influence of the California Ranch on this home style is evident in its sprawling layout.
Ranch homes are often asymmetrical and feature an open floor plan and hipped roofs. Exterior decoration is usually minimal, and building materials commonly include siding and stucco. Other features commonly associated with Ranch homes include attached garages and sliding glass doors.
This home style is sometimes also referred to as the "Suburban Ranch." Other offshoots of the Ranch style include the bi-level (or split level), Raised Ranch, and Storybook Ranch.
Spanish Revival:

Spanish Revival homes find their origins in the Spanish Colonial homes from around the 1600s. These homes are very popular in areas where Spanish settlers first lived- states like Florida, California, and the southwest. These areas were popular for the original Spanish settlers because the climate was similar to the settlers' homes. As a result, the settlers used the same styles and materials as they always had.
This is why clay-tiled roofs and stucco-finished walls are a mainstay of the Spanish Revival home style. The tiled roofs are often low pitched or flat, and the stucco-lined walls are usually made of adobe. These homes typically have a limited number of small windows to allow cool breezes in while blocking the warm sunlight.
Townhome: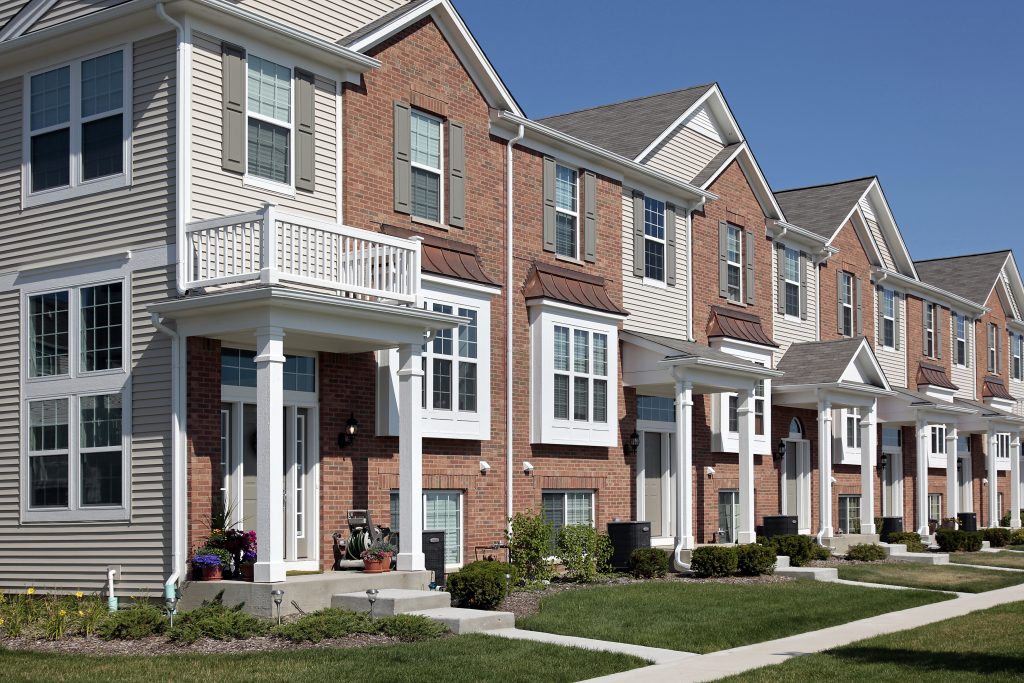 Townhomes are more of a structural decision than a decision on styles or features. Townhomes can come in a wide variety of home styles.
Townhouses operate a lot like some condos or apartments but are unique in that they always share a common wall between units. Sometimes, this is a double wall with a small gap in between. Townhomes often charge HOA fees (less than a typical condo or neighborhood) and are unique from comparable condos or apartments in that they attempt to mimic the feel and look of a traditional single family home.
Tudor:

Tudor houses gained popularity as European-trained architects, influenced by Old World styles, found work in America starting around 1890. This style retained its popularity until the mid-20th century, when a rise in post-World War II patriotism saw a rise in architectural styles more deeply rooted in American history.
Identifying a Tudor style house is relatively easy. Tudor homes are characterized by a steep gable roof, masonry chimneys, and half-timbered embellishments. A focus on quality is also important in Tudor style homes- lumber, stone, etc. are all meant to be permanent, sturdy construction elements.
Victorian:

Last but not least, Victorian style homes are an ornate and easily identifiable home style. Popular during Queen Victoria's reign (1837-1901), these home styles split into many subgroups and are influenced by a wide array of older architectural practices. As such, the term Victorian is a broad term that represents more than just a single style.
Generally, Victorian homes have ornate facades and intricate, sometimes colorful, ornamentation. They are often tall, spanning two or three stories, and in urban areas can be found built in a row, with large sections of a single street donning all Victorian homes. These homes have intricate floor plans and often include towers, turrets, bay windows, dormers, and long porches. Roofs are often complicated, gabled roofs with an open front. Sub-genres of Victorian homes include the Gothic Revival, Folk, and the very popular Queen Anne.